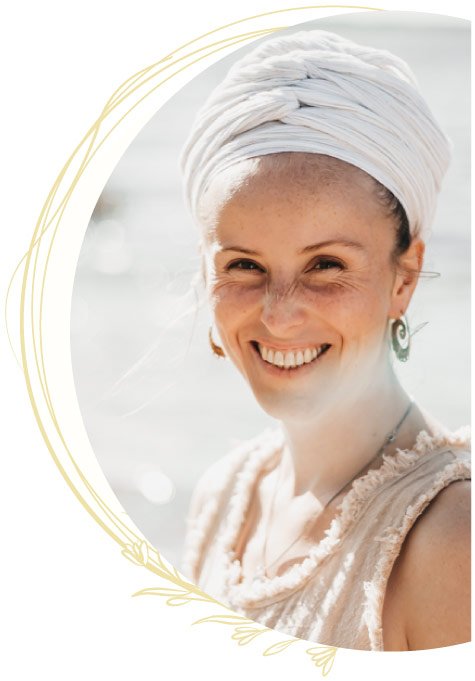 Declaring your Love for Life
Welcoming life in its fullness and learning to love it unconditionally – That's what Yes Life! is about.
It is my offer to those who are ready to become real life-lovers by grasping themselves in their depth, surrendering to their own destiny & acknowledging their personal life-force.
Through 18 weeks of Embodiment, self-exploration & Energy-Work you will built a healthier relationship to your self, explore your hidden powers & cultivate an alive connection to source, soul & spirit.
Yes now!
It is easy to say Yes! to life when everything is just flowing perfectly. But what about Yes! when things are not going "your way", when life seems out of control, chaotic, overwhelming or just like a cage?
Yes, life is bigger than you & me and confronts us with things beyond our control, but it is in your hands how you approach these things & life itself.
As humans, we have developed a variety of strategies to say NO to life when it challanges us.
For example we…
Tense up, pretend to be deaf / dead / blind & wait until it's over
Go numb / compensate and pretend that everything is okay
play the victim role, blame others and become passive
(…)
In Yes life! You learn to own your YES! to life and to keep it throughout the ups & downs of Life
It may sound counter-intuitive to say Yes! to unpleasant experiences, but in reality this initial Yes! is the base for thriving through challenges and living a joyful life. With this Yes! you acknowledge your reality and give up resistance against what is already happening (or has happened). Thus you can truly learn from and grow through the challenges of Life.
Melting your personal resistance against Life is an act of devotional (self-)love.
By Saying Yes! to Life you are giving it consent to move you.
The forces of this universe are much bigger than we are, yet we are part of this indescribable, multi-dimensional organism called cosmos. Yes Life! Means, opening up yourself to the guidance of those forces, trusting that these forces move you, in order to bring you to where you belong. At the same time it means to acknowledge your own soverignity and powers.
By saying Yes! to Life we surrender to where life moves us and take full responsibility for our personal life-force and actions.
Thus we begin to co-create our personal life in harmony with the movement of the cosmos.
This may sound very big, but in fact its aliveness lays in the little every day actions that shape your reality. We are a part of the intelligent cosmic organism anyway – its just a matter of choice to accept and move with it or to try staying small.
Yes Life! is a 3 months-journey into personal life-force & individual cosmic guidance.
We will:
melt individual resistances against life

embody aliveness in all its forms

find multiple ways of expressing love (to Life, to ourselves, to challengers & helpers)

embrace being tiny humans & step into the power of embodied self-responsibility

anchor states of Surrender & Life-force into our being

listen to source & receive its guidance
How Yes Life! specifically serves you:
18 weeks journey in an intimate group of maximum 11 life-lovers

6 Live Deep-Presence Group Calls á 120 minutes (+ recording)

6 Live Embodiment Research Group Sessions á 120 minutes (+ recording)

6 Study Group meetings to integrate & practice self-empowerment

4 Individual sessions á 60 – 90 Minuten with me

1 Morning Practice Video on Embodying Surrender & Life-Force as Download (forever yours)

6 Months membership for the Spirit Embodiment Video library (optional – only in german!)

Support-group via Telegram (optional)
Embodying your Yes! to life, to yourself and to cosmic guidance is a unique process that can not be structured through a tool-box. That is why I designed this 3 months journey as a vessel, a container for what is alive in the presence, what comes through us, who are journeying together – thus it is in itself an alive organism.
I will teach you to listen to energetic, emotional and mental movement within & around you.
Thus what happens in the group meetings will be born out of the individual processes of each participant & the collective field of intelligence we create through journeying together.
The condition for participation is that you take part in most of the calls and use the 4 individual sessions within 4 months (January – May).
What Yes Life! needs from you
A good portion of hunger for life

willingness to realize yourself and step into life-force

Courage to change yourself and your life

commitment this journey of 4 months

willingness to make space for this process in your everyday life

investment of at least 777 € in your growth
Dates:
04.January – 3.May 2023 every Wednesday 7 – 9pm CET
Extra: 31.May Reflection & Integration Call (Same time, but 30 minutes shorter)
Languages:
All group calls will be in English with additional German translations if needed
The Morning Practice Video will be English only
Individual Sessions are available in English or German
The Kundalini Yoga Library is German only
All payment options are without access to the Kundalini Yoga library – add another 100€ to use the library for 6 months.
In Service for Lifeforce,
Josepha